About Louis
Louis is a fifth generation musician. His father, Clarence Ford was a phenomenal musician whose career span ran three decades and also performed with Fats Domino and many other jazz greats. Louis yields from an impressive legacy of musicians which can be traced back to the Storyville days. Like his father, Louis is an accomplished clarinetist and saxophonist and truly dedicated to the preservation of jazz.
Born and raised in New Orleans, Louis studied under professor Kidd Jordan at Southern University in Music Performance and Alvin Batiste. He also studied classical under principal clarinetist of the New Orleans Philharmonic Orchestra (BME). Louis graduated from Loyola University with a degree in music education which he has built on to create a unique sound all his own.
Performed with
: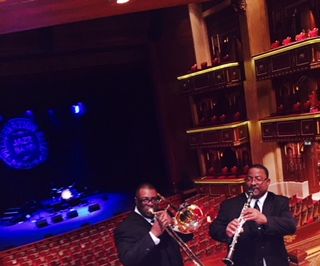 Alvin Batiste Joe Wilder Ink Spots
Edward Frank David Baker Pat Boone
Harry Connick, Jr. Virgil Jones Rufus Reid
Joe Williams Keeter Betts Shirelles
Wallace Davenport Emory Thompson The Four Aces
Ruth Brown Connie Jones Lauren Schoenberg
Charlie Brown Bobby Watson Alvin Alcorn
Bowser-Sha Na Na Dave Bartholomew Justin Adams
Ricardo Lewin Danny Barker Gerald Adams
Brooke Benton Placid Adams Joe Williams
Kida Jordan
Press:
Louis Ford Plays Old-Time New Orleans Jazz
Geraldine Wyckoff profiles jazz musician Louis Ford for the August 2014 issue of OffBeat Magazine. Press pic to view article
Photo credit: Lynn Masterson O'Shea
Copy & Paste links below to read Articles
http://www.larmstrongsoc.org/meet-the-band/
http://www.myneworleans.com/New-Orleans-Magazine/March-2007/Our-Jazz-All-Stars-The-Class-of-07/
https://www.facebook.com/Thejazzevangelist/posts/157369110954325
http://www.preservationhalljazzband.com/news/257773
http://www.louisianamusicfactory.com/shop/compact-disc/dr-michael-torregano-doctor-jazz/
TV Show Appearances:
Tonight Show - Johnny Carson
Tonight Show - Jay Leno
Japanese Game Show - Name That Tune - Bob French and his Tuxedo Jazz Band
MTV - Harry Connick Jr. Album - Blue Light/Red Light
Arsenio Hall
New Orleans Local News Station - WWL Morning News Live Music Broadcast - Harry Connick Jr.
Christmas Show with Carol Burnett and Aaron Neville
NCIS
TV Commercials
Popeyes
Music Video
Sheryl Crow
Jingles
Budweiser Beer Dedication to the 1984 Worlds Fair in New Orleans
Radio
WWOZ - Live Broadcast of New Orleans Jazz & Heritage Festival & French Quarter Festival
Sheryl Crow
Jazz Festivals
The New Orleans All Stars - Denmark with Norbert Susemihl
JazzBattaklang-Dendermonde, Belgium
Arendahi, Norway Jazz Festival
Sun Valley, Idaho Jazz Festival
Montreal International Jazz Fest
Mammoth Lakes Jazz Festival
Sacramento Jazz Festival
Connecticut Great Traditional Jazz Festival
Tampere Jazz Happening- Tampere, FIN, Finland
Jazz a-Vienne Festival - Vienne, France
All That Heritage and Jazz Festival - Montego Bay, Jamaica
Manly International Jazz Festival - Sydney, NSW, Australia
Jazz Marathon - Wakayama City, Japan
Lillehammer Jazz Festival - Lillehammer, Norway
New Orleans Jazz Ascona
Lugano Festival Jazz - Lugano and Mendirsio, Switzerland
Bix Beiderbecke- Davenport, Iowa
Tours
Smithsonian Jazz Masterworks Orchestra
Brooke Benton
Harry Connick, Jr. - US and European Tour